7 More Years For A Sexy, Sexy Baby
Gurus Doin' Time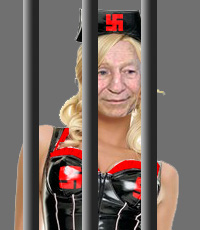 Chilean
death camp commandant
and authoritarian guru Paul Schaefer just got a nickel and a half
added
to his 20-year prison sentence. The ex-Nazi nurse was most recently convicted of weapons possession. This is on top of a conviction for a lifetime's worth of sex abuse with the kiddies. Young boys were his speciality.
We'd like to think that Paul is getting along fabulously in jail. We're sure he's a hit with the fellas in his
sexy
black
Nazi
nurse
regalia
, although he probably looks like a old leather bag full of bones in it. That's ok. The fellas can use their inner eyes while they're using Schafer's outer one.