You Say Avatar, We Say Avatarded
File under:
The Siddhi of PR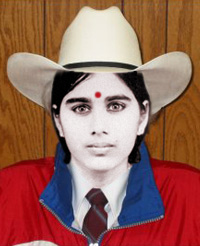 Recently
on tour
in
North America
this summer, [
Ed.note: For anyone who went to see her, reviews are most welcome in the comments section.
] Mother Meera
gets the treatment
by Cliff Bostock, a depth psychologist and former devotee of the devi-duplication diva and space mommie for tens of thousands all over the world.
Cliff reveals how his guru love for the Germany-based, silent satsanging Meera began with such promise:
She explained... that she was not interested in becoming the object of a cult and that people could go directly to the divine rather than through her if they were able. She also said that other teachers were just as legitimate.
Oh, how
far do they fall!
Here's what they are saying about her now:
The unique gift of Mother Meera to the world is to make available for the first time in the history of the Earth the radical transformative Light of Paramatman, the Supreme Being. In this time of crisis and growing spiritual hunger, the Mother offers Her children a direct transmission of Light that dissolves all barriers and changes the entire being. This Light can be received by all who are open, whether or not they have met Mother in the body.
Cliff goes on to describe a classic case of the guru googoos:
I can't articulate what the experience was like for me those first visits. I vibrated strangely. My breath flew out of me. Once, I saw my heart in the air. Her gaze, even though momentary, was an experience of the most profound intimacy I'd ever had.

The pleasure of this intimate contact with a divine presence was almost addictive. A week after my first darshan, I awoke in the middle of the night in a Paris hotel, feeling as though I'd fallen into the deepest love of my life. It was not the first time I had experienced a direct feeling with my heart, but it was the first time I realized that the heart is truly a perceptual organ.
Meera and
Benny Hinn
should trade notes. It's the same thing working for the both of them.
But then Cliff falls out of love after Meera's rejection of prominent devotee
Andrew Harvey
when he came out to her as gay:
I was disappointed by her statement... that homosexuality is "against the law of nature." And I was embarrassed when I confronted her secretary, Adilakshmi, and was told the statement was a "printer's error." She produced a still newer edition that eliminated the statement.
There's nothing like a little clumsy confabulation to keep things neat and tidy.
Next week we get treated to Cliff's experience of going back to Meera when she visited Raleigh, North Carolina, last August. Stay tuned.