Jaxon-Bear Boinks Student, Bounces Self From Board
File under:
Hands Where They Don't Belong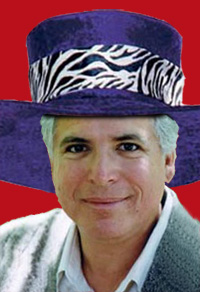 Eli Jaxon-Bear
, founder of the
Leela Foundation
and husband to famous Papaji-ite guru
Gangaji
, has
fessed up
to messing around with one of his students. As it turns out, the wifey got wind of it a whole year ago:
Eli told Gangaji about the relationship in October 2005. At the student's request, neither Gangaji nor Eli disclosed the relationship. Recently, Eli encouraged the student to disclose the true nature of the relationship to people in our community.

What was initially seen as a matter between adults is now recognized to be a betrayal of the teacher/student relationship and an abuse of power. A trust with the larger community also has been broken. This is an important revelation as real harm is being experienced by the student and is being fully acknowledged. The repercussions of this betrayal are reverberating in ways that were never imagined, but are very painful.
Wait a minute. The student was ok with the wife knowing about it for a whole year, but when Jaxon-Bear asks her to go wide with the disclosure, it's suddenly not ok?
Obviously, there's more to the story than in the
announcement
a number of readers turned us on to this morning. Maybe one of y'all can fill us in a bit more. That said, we've got to give credit to Jaxon-Bear, Gangaji and the Board members for dealing with this out in the open rather than attempting to cover it up or simply demonize one of the parties to the tryst.
What we don't give them credit for is all the wailing and gnashing of teeth they're apparently rocking over there now:
My prayer is that all the hearts affected by this including the student, the staff, the community, and Eli and Gangaji can heal the pain that is present and over time rebuild the broken trust. As students, we can all come together as beginners, to expose the betrayals and to see the heartbreaking consequences of our actions. We have the opportunity to share our true feelings, experiences and realizations, to meet our own and others' pain and humanity, and to offer and receive our apologies, condolences, and gratitude. In the realization of our true silent nature, we can gather with compassion for all the harm we received and all the harm we have caused, and then see what comes from that meeting.
You can blame the inky darkness that is our heart for this, but those sound a bit like weasel words designed to mitigate the potential lawsuit brewing here. A guy in a position of power hooks up with an impressionable follower. When has that ever
not
happened before?
It's yet another demonstration of the absolute supremacy of being human when you're a human being. There is no amount of realization that gets you out of that, folks. Not until that final mahasamadhi, anyway.
Update:
Here's
Stuart Resnick's
recent commentary on the imbroglio from the
discussion group
:
They get points by being so much more open and straightforward about the issue than say Siddha Yoga or Hare Krishna or the endless other "spiritual" groups rocked by sex scandals.

Still, the response seems a bit too precious for me. Sure, it's worth contemplating whether adultery is always harmful, or whether such relationships between a teacher and student are automatically abuse of power. But I feel that if Gangaji and Eli had been more clear about presenting themselves as ordinary people (using the teacher/student form as a technique for mutual help), this all could have been dealt with as a relatively common type of human struggle.

By elevating this teacher/student connection to something so special, sacred, and spiritual (in announcing Eli's resignation, the Executive Director writes of how he "breached the sanctity of the teacher/student relationship"), perhaps they've created more heartache than necessary. Couldn't they try to minimize suffering by viewing it all as normal human difficulties that we can learn from, rather than a spiritual catastrophe?
We've got to be straight with you all, sometimes we think we need to sound more like this. He said the same thing we did, only more like a grownup.