Sour-Faced Devi Defiles India's Flag
File under:
Gurubusting
Nirmala Devi
is
not
one of our favorite gurus. Besides always looking like she's just eaten a whole bag of sour lemons, she's a
well-documented ego-maniac
who quite possibly suffers from
borderline personality disorder
.
So, when these photos and accompanying outraged message appeared in our inbox this morning, you could say we were more than just a bit tickled: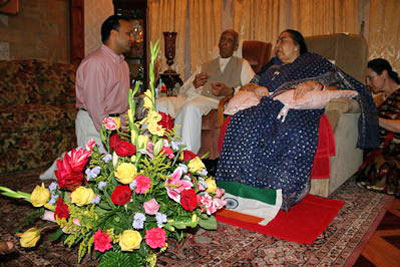 These pictures show the gross disrespect and insult to the Indian National flag by this so called "spiritual leader" and self-proclaimed "GOD", Mataji Nirmala Devi. This disrespect to our country's flag shows that she has definitely no respect or love for the country that gave her so much and her husband who was an IAS officer and chief of the SCI (he is seated next to her in the pics). Such a shame. I do urge and plead with all Indians who deeply love their country to forward the photos to as many people as possible so that it does catch the eye of someone higher up in the Indian Govt. who can really take some action against this cult.
Seeing as this "mataji" lives in Europe now, this missive making the rounds is probably not going to sting too much anyway. We imagine the old bat probably feels she can step on just about anything she feels like. After all, she
is
the goddess of the universe, according to herself and the pinch-faced devotees
who have to put up with her
everyday.
Here's a few more photos just in case you haven't been sufficiently outraged yourself:
[
Ed.note: In India, feet are seen as rather unclean, so to have something next to your feet is to degrade it and make it less holy. Unless you actually
are
God, which this lady is most definitely
not!]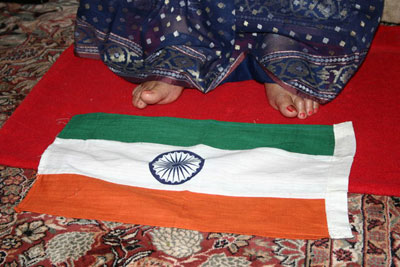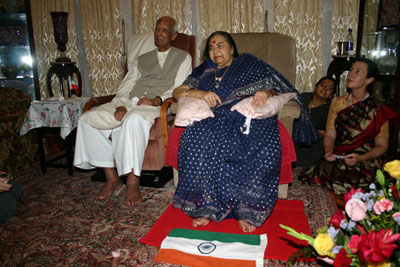 Labels: Gurubusting