Ammachi New Delhi: The Al Qaeda Of India
File under:
Amma All-Over-The-Planet
and
Ammachi's Goongate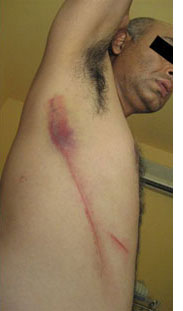 A Green Avenue resident's wounds, courtesy of Ammachi's devotees.
Back in April this year, employees of Ammachi's New Delhi ashram placed an illegal sign in the Green Avenue neighborhood of New Delhi, India. The local residents didn't mind the sign being up for the duration of Ammachi's visit, but requested that the sign be removed after the visit was finished.
But instead of taking down the sign,
employees of Ammachi's ashram violently attacked
some of the Green Avenue residents in an act that was
nothing less than attempted murder
. With the local police department completely in Ammachi's breast pocket, the Green Avenue residents turned to the internet to get some justice. The vicious attack
also got coverage
in
Society
magazine, the Indian
Vanity Fair
.
After receiving no official apology or communication
at all
from Ammachi's home office, the illegal, offending sign was
finally removed
. Case closed, you'd think... Think again.
The harridan who runs Ammachi's New Delhi ashram, fronted by someone calling themselves S.K. Nair, is
bringing
a
suit
against two of the Green Avenue individuals who were viciously attacked by a bus load of Ammachi goondas. That's like being sued by the terrorists who attacked you
for being attacked by them
. Put another way, you tell your linebacker friends to hurt your ex-boyfriend, and then you
sue
your ex-boyfriend for getting in the way of their fists:
Another shocking revelation to all of us in Green Avenue Vasant Kunj are the attached notices received by Vikas and Ashwani.

Can lies ever get more blatant!!

Just when one starts believing that Amma must have put some sense into her Delhi Ashram, they again revive our memories of their vicious deed of 19th April this year when my husband was nearly killed.
Since the law enforcement and judicial establishments near Green Avenue appear to be wholly-owned by the hugging "saint", the Green Avenue residents who were viciously attacked and almost killed have to put up $250 each,
just because they've been public about the fact that they were almost murdered.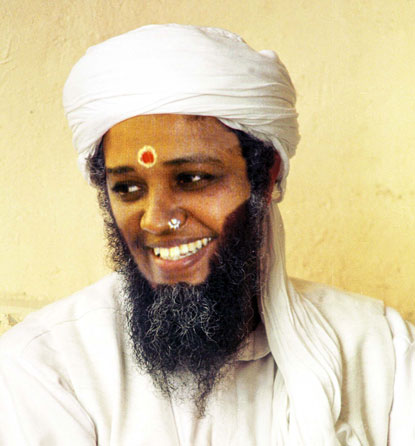 Would you want a hug from this person?
Another twisted tale portending the end times? Who knows. But it does reveal that Ammachi's organization in India has a lot more in common with Al Qaeda than most of her American devotees are aware of.