A New Moon Tries To Rise
File under:
Gurubusting
,
The Siddhi of PR
and
Wackadoo Gurus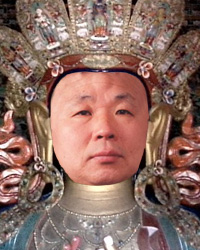 Today a good friend turned us on to
Tathagata
,
yet
another
nutbag
who claims to be
the
Maitreya Buddha, awaited by crystal-grippers all over the world to usher in the New Age™ we've all been waiting for.
Looking a bit like a cross between two other Koreans, Kim Jong Il and Sun Yung Moon, Tathagata clearly belongs in a psych ward with the other Buddhas, Napoleons, Jesus Christs and George Washingtons.
In other words, a bump on your forehead and the grandiose delusion you're here to save the world do not a Buddha make.