Heil Maharishi!
File under:
The Siddhi of PR
The "raja" of Germany got
a bit carried away
when David Lynch came to lecture in the Fatherland recently:
"We want an invincible Germany! Invincible Germany" exclaims the "Raja of Germany", dressed in a white robe and golden little crown.

"What do you mean?" cries the audience. "Hitler wanted an invincible Germany as well!"

"Yes, but unfortunately he didn't succeed!"

"WHAAAAAAAAAT"?!?!?!?!

David Lynch's Berlin visit yesterday was turned into a chaotic fiasco by his friend, "The Raja of Germany" - dressed like a McDonalds Pope - and either a nazi, nutty as squirrel poop - or simply fully unconscious of the words coming out of his little mouth. Since he just kept repeating the same words when asked to clarify, the two latter seem closest to the truth. The crowd started screaming and booing, David Lynch and his American entourage looking dumbstruck...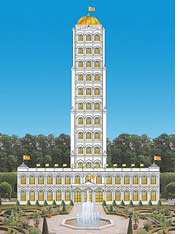 We can't argue with that analysis. And when you consider the source of the "raja's" appointment, a pathologically grandiose guru who literally believes his organization is going to rule the world, none of it is at all surprising.
But until one of these "Towers of
the Maharishi's phallic insecurity
Invincibility" actually gets built, we have no reason to believe that the impending Global Country of World Peace is anything more than a sexually frustrated old man's obsessive/compulsive syndrome transmuted into an utterly redundant bureaucracy.
Nothing says repressed more than proposing to build large (and quite ugly) concrete monuments to your penis everywhere.
[Link via:
TM-Free Blog
]
Update:
Time
magazine
has now caught on
to what we hope becomes known as the "Eraserheil" affair. Kudos to TM-Free for bringing it to all of our attention.
Labels: The Siddhi of PR