Sri Smile Coming Back To Dazzle Up Some Cash
File under:
The Siddhi of PR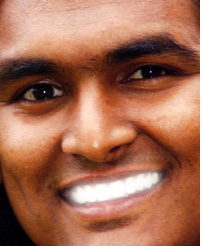 Up and coming space-daddy
Swami Vishwananada
is heading Stateside again in that staple ritual of the big-time guru: the eternal quest for cold, hard American cash. But the
Yogananda-incarnation
impersonator still has to work on his media manipulation siddhi, issuing a mere
wire-service press release
rather than conning some journalist into providing an article conveying that magical combination of humanity and mysterious power that
losers
devotees all over the world believe their gurus to possess.
Upon
attending a local satsang
last year, we came away feeling maybe the dude wasn't so bad. And after reading his
bio page
on the website, at least they're keeping the
mythical Godman-making
to a minimum, unlike Vishwananda's primary competitor right now,
Swawi Nithyananda
.
But they sure haven't given up on the fund-raising. Get a load of this transparent pitch:
Sri Swami Vishwananda comes to remind us of love and His message is simple, "God is Love inside each one of us." When we receive His blessing, it is in the form of love. He tells us "that the only traveling we need to do is from the mind to the heart" and "that in the silence, we can find our true Selves." And He reminds us that just as we have been given this love freely, we should share and spread this love and joy unconditionally with everyone.
He's talking about
green
love, folks, for in the next paragraph we read:
By supporting The Bhakti Maraga Foundation you can make it possible for many more people to realize this love in their own lives. It is one of many ways to express our gratitude and of giving back some of what we have received.
Sadly, we don't see much of a future for Swami Vishwananda if he doesn't step up the miracle-mongering. Folks can get the same, lame platitudes about love and oneness from just about any yoga teacher on the block. People in the States go to gurus for the spectacular divine fireworks they imagine they're gonna get. Nithyananda has got
miracles coming out of his ass
right now, and
famous followers
to boot.
So Vishy better step up and start being as ridiculous as the rest of them if he's to get any real traction over here.
Labels: The Siddhi of PR